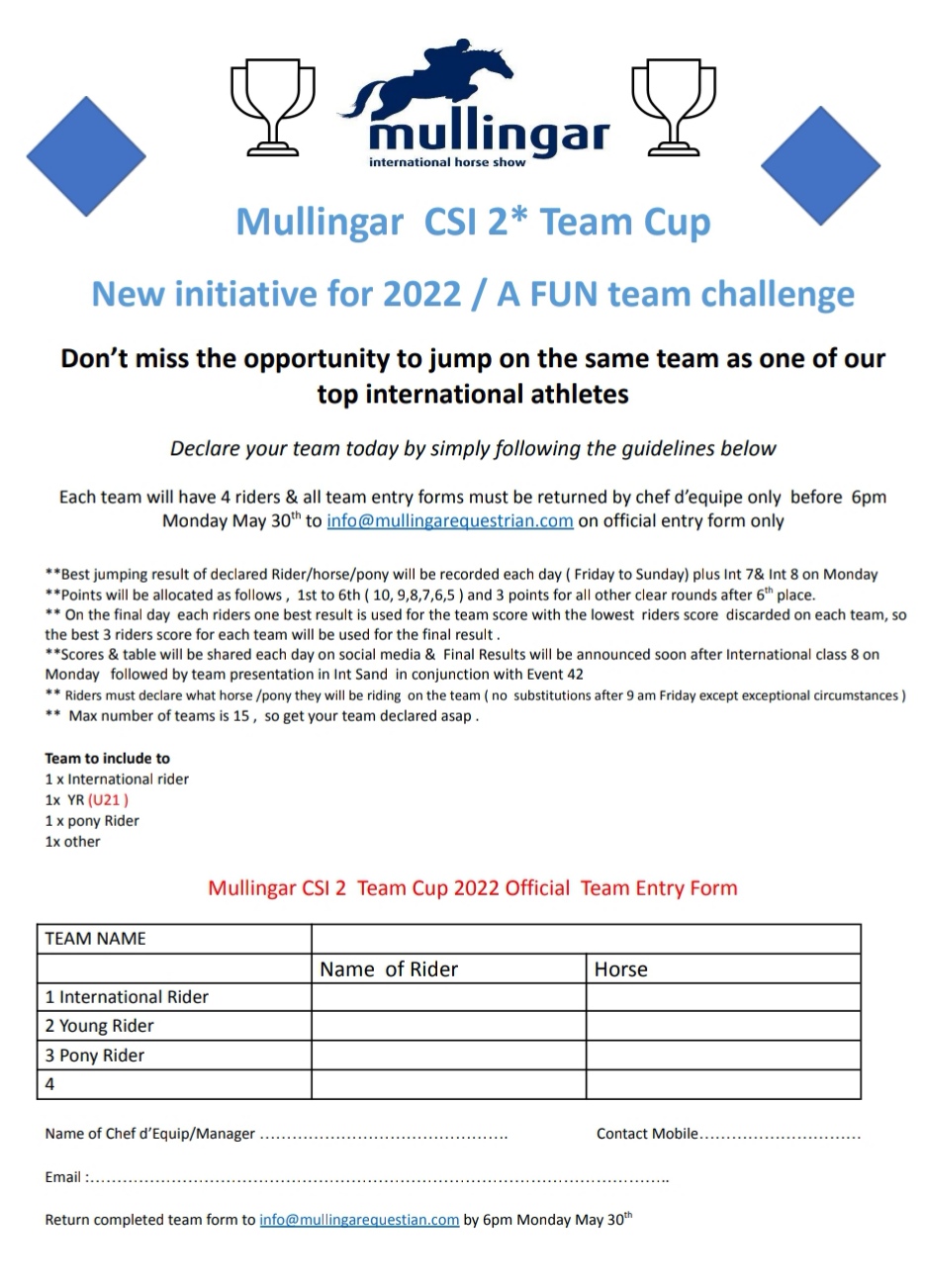 Event details
Friday | June 3, 2022 to Monday | June 6, 2022
9:00 am
Mullingar  CSI 2* Team Cup , A NEW initiative for 2022!! 
A FUN team challenge and a super  opportunity to jump on the same team as one of our top international athletes
Declare your team today by simply following the guidelines below
Each team will have 4 riders & all team entry forms must be returned by chef d'equipe only  before  6pm Monday May 30th to info@mullingarequestrian.com on official entry form only 
Click to Download Entry Form.
**Best jumping result of declared Rider/horse/pony will be recorded each day ( Friday to Sunday) plus Int 7& Int 8 on Monday
**Points will be allocated as follows ,  1st to 6th ( 10, 9,8,7,6,5 ) and 3 points for all other clear rounds after 6
th
place.
** On the final day  each riders one best result is used for the team score with the lowest  riders score  discarded on each team, so the best 3 riders score for each team will be used for the final result .  
**Scores & table will be shared each day on social media &  Final Results will be announced soon after International class 8 on Monday   followed by team presentation in Int Sand  in conjunction with Event 42 
**
Riders must declare what horse /pony they will be riding  on the team ( no  substitutions after 9 am Friday except exceptional circumstances )
**  Max number of teams is 15 ,  so get your team declared asap . 
Team to include to 
1 x International rider 
1x  YR
(U21 )
1 x pony Rider 
1x other