Event details
Friday | July 30, 2021 to Sunday | August 1, 2021
9:00 am
087-2488017 Dorothy & Enya 085-7759065
Friday July 30th – Sunday August 1st.
FULL Show Schedule
Online Stable Bookings
Entries on SJI LIVE – Open July 25th.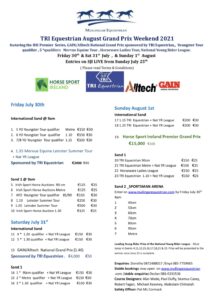 Summer Sportsman Show (un-reg)  – Aug 1st
ENTER ONLINE
Stable Enquiries : Declan 086-0331536
Show enquiries :  Call/Text Dorothy 087 2488017 or Enya 085 -7759065
or info@mullingarequestrian.com
Mullingar  SJI Shows Terms & Conditions  2021 
Entry Conditions: Entries should be paid in full at the time of booking on www.sjilive.ie                                                          
To avail of a refund ( with the exception of the classes listed below ) withdrawals must be made by the rider/owner on SJI Live before the close of entry as per that  show   , a €10 admin fee ( €5 for league shows) will be retained for each entry. There are no refunds for any entry not withdrawn before the close of entry .
 Grand Prix/Premiers: Refunds will not be issued  for National Horse Grand Prix, Premier GP, Pony Premiers/ Starfinder, Mervue GP , Spring Tours, Autumn GP  unless a vet cert is submitted to  info@mullingarequestrian.com within 3 days of the show finishing..
Any queries re entries must  be submitted in writing by email to info@mullingarequestrian.com within 14 days of the show finishing .We may as show organisers close entries earlier than advertised subject to numbers submitted or move classes , arenas or start times as appropriate. 
 Show Enquiries ( Office Hours 9am to 6.30) : Text Dorothy 087-2488017 or Enya 085- 7759065