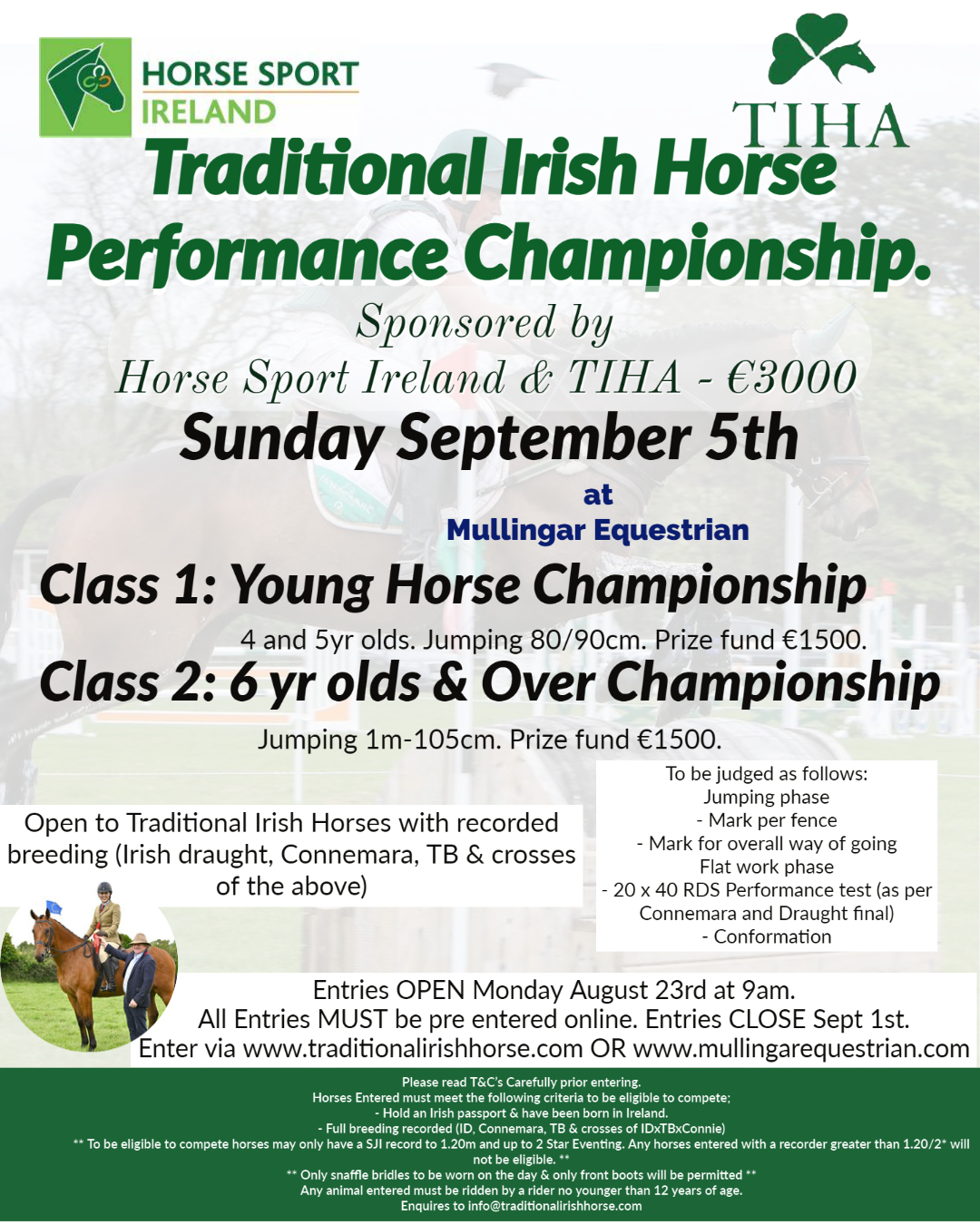 Event details
Sunday | September 5, 2021
All Day
Sunday September 5th.
International Grass Arena (weather permitting.)
Entry Fee €55
Total Prize fund €3000, Kindly Sponsored by Horse Sport Ireland & Traditional Irish horse Association.
Class 1: Young Horse Championship
(4/5 yr olds, jumping 80cm/90cm)
Class 2: 6 yr olds & over Championship
(jumping 1m /1.05m)
Enquiries:
Email: info@traditionalirishhorse.com  / enya@mullingarequestrian.com
Ph:  General queries: Liam  on 087 6478616  /     Entries Online:  Enya on 085 7759065
** Please read all info and criteria below carefully prior submitting your entry **
The Traditional Irish horse Performance Championship will be judged as follows:
** Jumping phase **
– Mark per fence
– Marks per overall way of going
** Flat work phase **
– 20 x 40 RDS Performance Test (as per Connemara and Draught final)
– Conformation
Horses Entered must meet the following criteria to be eligible to compete;
–  Hold an Irish passport & have been born in Ireland.
– Full breeding recorded (ID, Connemara, TB & crosses of IDxTBxConnie)
**  To be eligible to compete horses may only have a SJI record to 1.20m and up to 2 Star Eventing. Any horses entered with a record greater than 1.20/2* will not be eligible. The entry will be withdrawn by the show office. **
** All horses/Ponies entered must be ridden by a rider that is 12 years old +. **
Tack
Protective headgear conforming to the current recommended Kitemark standard – PAS 015, F1163 or Snell, and fitted with an adjustable harness, is compulsory for all riders. (Please note that (BS) EN 1384 hats will not be permitted unless the hat is dual stamped with another standard such as Snell or PAS 015).
A body protector must be worn by all riders.
Riders must dress according to the dress code.
Only snaffle bridles with any one of the following nosebands: cavesson, drop, flash or grackle are permitted.  This applies to all phases of the competition.
Crank nosebands are not permitted.
Martingales are not permitted.
Fly veils / ear covers are not permitted.
Neckstraps and/or breastplates are permitted.
Only saddle contoured numnahs are permitted. Saddle cloths or visible logos are not permitted.
Only blunt metal spurs or ones with rubber rowels ≤ 2 1/2 cms (1″) facing downwards are permitted.
Front boots of a plain colour may be worn during the Jumping Phase.
No hind boots or bandages permitted.
The same tack must be used in each phase.  No tack etc. may be worn that conceals the conformation of the horse.
No item of tack excluded from competition is allowed in the practice arena.
If for any reason, a competitor goes through the Start with incorrect tack, the Judge will have no option but to eliminate that competitor.
PLEASE READ CAREFULLY;
–  The TIH Performance Championship  will run in accordance with the current Covid-19 guidelines, Please familiarise.
–  Times will be posted online 48hr before the show.
–  All payments must be made by September 1st, if entries are not paid in full by this time your entry will be cancelled.
-Attendees must be familiar with all current Covid-19 protocols
-Masks must be worn at all times (except when mounted )
-Do not travel if you feel unwell or are experiencing any of the Covid-19 symptoms i.e. High temperature, persistent cough,
-Do not travel if you have been out of the country in the previous 14 days
-It is advisable to pack additional personal hygiene sanitizers etc, for your own use.
-If for any reason you cannot travel please let us know in advance .