Saturday February 23rd is the begging of our Spring Showjumping League.
Their will be unregistered jumping in International Sand and in Sand Arena 1 before SJI Classes begin.
The unregistered classes will run for 5 weeks and are the perfect opportunity to dust off the cobwebs or perhaps take a youngster out for a little education.
Unregistered League Dates: Saturday's, February 22nd, 29th & March 7th, 14th &21st
The unregistered classes will be followed by our SJI Spring Horse and Pony League.
This is a 10 week league.
SJI Horses will jump in International Sand and SJI Ponies will jump in Sand Arena 1. The perfect chance to get out and about with new horses/ponies, youngsters or even to meet some old faces!
SJI Spring League Dates: Saturday February 22nd & 29th ,Saturday March 7th, 14th, 21st & Sunday 29th ,Saturday April 4th ( Horses), Sunday 5th ( Ponies) , Sunday 12th.  Final: Saturday 18th 
Check out our website each week to stay up to date with the leading combinations on the Spring League Table!!
Prizes for the league will be presented in the final on April 18th.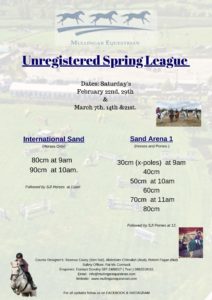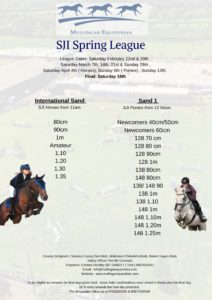 Don't Forget to follow us on Facebook and Instagram to stay up to date with all the latest.