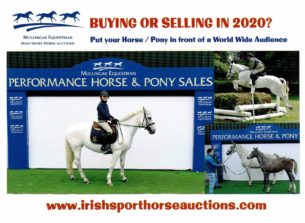 Check out some of the horses and ponies that were entered in our March Sale on IRISH SPORT HORSE AUCTIONS With the current restrictions it was not possible to hold a live auction. We have included vendors' contact details, so you can contact the vendors and deal with them directly.
Going forward, all sales at Mullingar will be live streamed, with the possibility to bid online also.
Put your horses and ponies in front of a worldwide audience. Buyers are searching online. Help them find what they are looking for. There is a wide market, from the amateur and leisure riders to the serious competitors, and they all have their particular requirements. Convince potential buyers with good quality video clips and photographs, and a full description, that capture the character and abilities of your horse or pony.
To get the best return from the pre-sale marketing,

SUBMIT YOUR ENTRIES WELL IN ADVANCE OF THE SALE DATE.

Your customers will be ready to do the deal on sale day.
Upcoming Sales
Saturday 30 May 2020

[POSTPONED until later in the summer]

–

Select Sale of 3 & 4 yo Showjumpers REGISTER YOUR INTEREST HERE
Saturday 5 September 2020
–

TIHA (Traditional Irish Horse Association) 'Show & Go' Sale of Hunting and Leisure Horses
Saturday 3 October 2020
–
Performance 
Horse and Pony Sale
Saturday 10 October 2020
–

Mayo Roscommon Breeders Group Ireland Select Foal Sale (Eventers & Showjumpers)
Saturday 7 November 2020
–
Performance 
Horse and Pony Sale + Connemara Pony Sale
2019 Sales Results
Archive