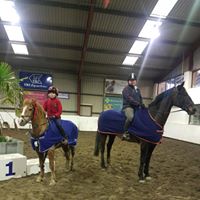 Friday Training Shows
Our Friday Training Shows will run  from November 1st and will  commence at 5:30. The first class is the 40 cm x-poles followed by the full 40 cm at 5:45 .. The 60 cm class is scheduled for 6.00 pm followed by the 70 cm, 80 cm, 90 cm and meter.
What classes take place
The evening starts with the 40 cm (younger riders can be led ) followed by the 60 cm, 70 cm, 80 cm, 90 cm, meter and 1.10
Who can partake?
The league is open to adults & children and all levels of rider / horse / pony. We particularly welcome adult riders (ie. riding club, amateur etc ).
What to wear ?
All riders should wear jodhpurs, plain colored jacket/top and correct foot wear. Hooded tops are not allowed for safety reasons. Animals should be turned out correctly. End of league prizes for turnout will be awarded.
Presentation night
Prizes will be awarded at the end of each league for the highest placed rider in each height category as well as for turnout and special merit awards
Enquiries;                                                                                                                                 
 Email: mullingarequestrian.enya@gmail.com
or
Text Dorothy(shows) 0872488017 )    Andrina (riding school) 085-519353 (wed-sat) 
Entry fee;  x-poles – 60cm €10.00 / 70cm +  €15.00 
Second Entry same rider/horse/pony   €10       
MEC School Pony Hire
Weekly – Entry + €10.00
Pre Book (4 weeks) – Weekly Entry + €5.00