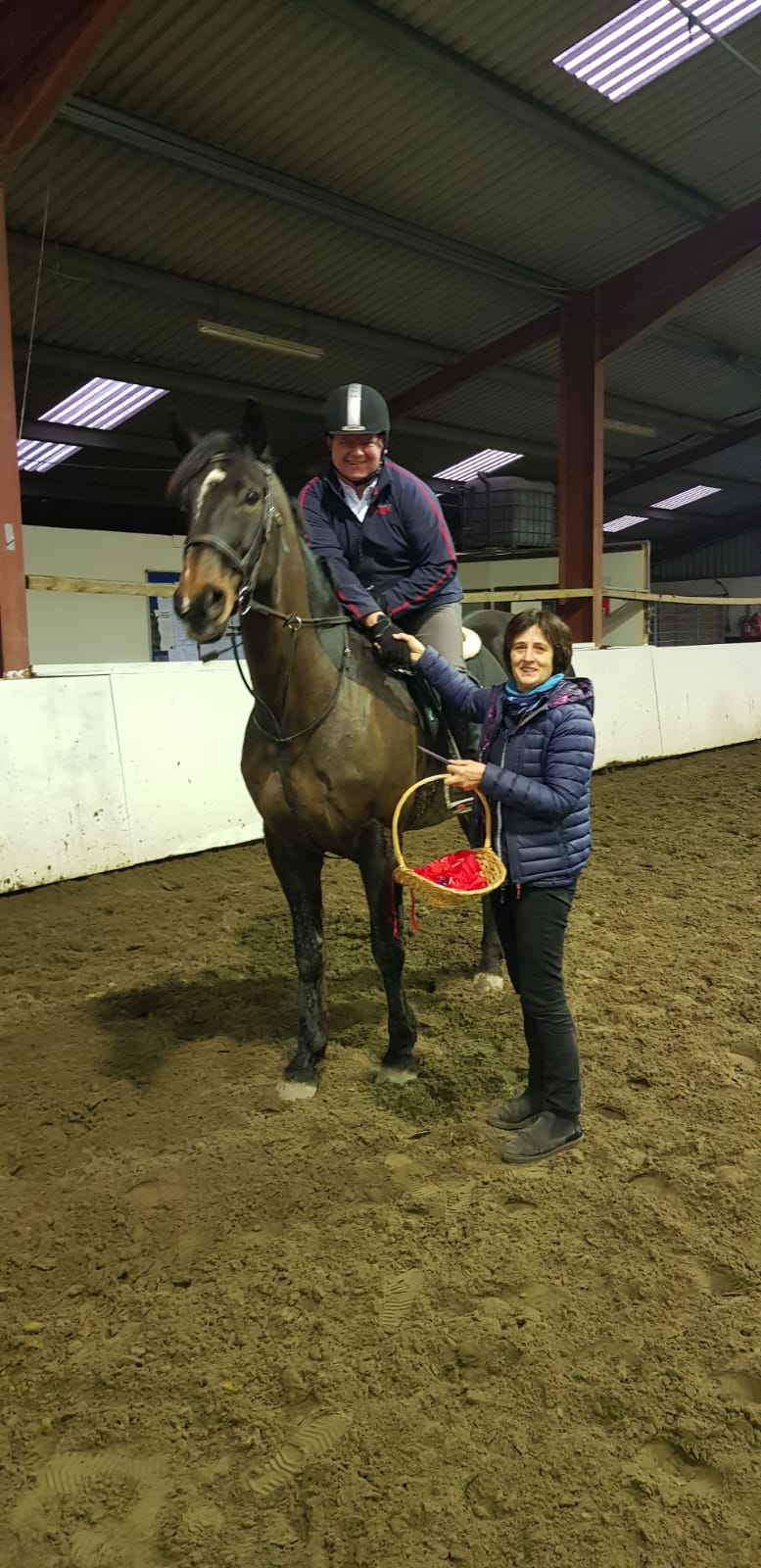 It's great to see the confidence that the younger riders are gaining at each show  and a special mention goes to Watson's two riders this week  Anna Drumm & Hannah Fagan ..
Hard work pays off and Francesca Williams Webster was knocking on the door with a consistent run of clear rounds over the past couple of Sundays . This week her time of 38.30  in the 70cm class was good enough for first place with little dividing Just Little / Ellie Rogan ( 41.22 ) & Ted Fagan /Thunder ( 41.66 ) for runner up & 3rd positions , two of our youngest riders at just 8 years of age &  Happy Birthday to Ellie who only celebrated her 8th birthday yesterday. Great season ahead for all these young competitors who are getting in lots of practice & its still only January .   Miriam Kenna & Warrior took home the winning rosette  in the 18 + section with a very stylish clear in a fantastic time of 34.98 from Finola  Clogher& Tommy ( 38.12 )
The 80cm class was not for the fainted hearted as the Kavanagh sisters skillfully demonstrated how to find the shortest way around the jump off course with Lauren stopping the clock in a time for 25.18 from Keelan in 28.22 .  The super partnership of Lauren Cole & Misty finished third, clear in a time of  29.25. A   delighted David Molloy & Bracken won out the 18 + section followed by another great clear in the 90cm competition .
Another great effort from Lauren Cole & Misty finishing with a time of 34.16 was good enough to take the honours in the 90cm from beautiful rounds from the Jones's sisters Ellen & Lucy & Ellie O Keeffe. Great to see Michael Keavney & Fred back competing in the 90cm & despite  Michael's best efforts to bury himself in the shrubbery on the turn back to the last he held on for dear life to break the beam with a fantastic time of 27.97.
There was no catching Alanna Fagan & Sunny in the Metre event as she confidently twisted & turned to jump clear in a great time of 30.21 from Jessica Fryday & Dixie clear in 34.87
Really looking forward to our Sunday League Final next Sunday February 3rd .  All the usual classes kicking off at 10.30
Clear your diaries for 1 extra Sunday for our  Valentine  Derby Show on February 10th .
Mullingar Equestrian Centre Results / January 27th
X poles
Trigger( Penny Munnelly) Dolly ( Blanaid Murphy) Blue ( Caoimhe Murphy) Rosie ( Arthur Gavin) Sylvester ( Avril Forde) Adonis ( Alanna Roberts) Adonis ( Ben Roberts ) Watson (Anna Drumm)
40cm
Blue ( Caoimhe Murphy) Watson ( Anna Drumm) Dolly ( Blanaid Murphy )  Adonis ( Ben Roberts ) Sylvester ( Avril Forde)  Dolly (Noah O'Brien) Kai( Ben Roberts)
50cm  :Fancy Man( Kate Lawlor) Mosstown Silver ( Evan Kellett) Watson ( Anna Drumm) Watson ( Hannah Fagan)  Spotty Ben ( Julianna Duffy) Scotty ( Claudia O Neill ) Rosie ( Willow Gavin) Isla Brennan (Manny) Isla Brennan (Annie)
60cm : Silver (   Evan Kellett  ) Watson ( Hannah Fagan) Tudor  (Ciara Staunton ) Spotty Ben ( Julie Anna Duffy)   Valentine ( Ria Shaughnessy) Fancy Man ( Kate Lawlor) Trigger (Iosa Smith) Speedy & Mohill Dun( Nialll Mulligan) Manny (Isla Brennan) Mischief ( Ava O Leary) Chester ( Adam Smith) Scotch ( Julie Kenna) Scotty ( Claudia O Neill)
70cm  1st  Markus (Francesca Williams Webster) 2nd Just Little ( Ellie Rogan ) 3rd  Thunder ( Ted Fagan)Mischief ( Ava O Leary ) Blue ( Marta Paul ) Molly ( Ellie O Keeffe)
70cm ( + 18 ) 1st  Warrior ( Miriam Kenna ) Tommy (  Finola  Clougher  )  Valentine ( Ria shaughnessy ) Marty ( Marie Helen Finnegan )
80cm 1st June ( Lauren Kavanagh )  2nd Bella ( Keelan Kavanagh ) 3rd Misty  (Lauren Cole)Jack   (Jodie O Leary)  Gooch ( Ted O Leary ) Casper ( Lauren Cole)Timmy  Marie Timmy ( Carla Williamson) Just Little ( Ellie Rogan) George   ( Emma Dolan )
80cm ( 18 + )  1ST  Bracken ( David Molloy ) Helen Finnegan( Marty )
90cm 1st  Misty (Lauren Cole) 2nd  Pepe ( Lucy Jones) Lily( Ella Jones) Molly ( Ellie O Keeffe)
90cm ( 18 + )1ST   Fred ( Michael Keavney)  Archie ( Niamh Mahon) Bracken ( David Molloy)
Metre :  1st   Sunny (  Alanna Fagan)  Dixie(  Jessica Fryday )  Lily ( Ella Jones )